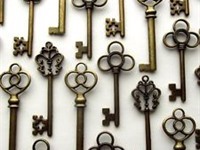 No need to wait around
We know that especially after a long journey, the last thing our guests want to do is to go through a lengthy check in procedure.
Our rooms are always ready to check into by 3pm at the latest, but we aim to be quicker if we can.
In order to speed up the check in process, as soon as each room is ready we send out a text message informing our guests which is their room and with the code to the front door. That way our guests don't have to bother about giving us an arrival time, so if they fancy stopping for an unplanned lunch break on the way to us, they can!
To this end, can you please make sure you provide a valid mobile phone number with your booking - and have your phone switched on!
Please note, that unless you have checked into your room, you will not be able to access the front door code lock after 11pm. If your arrival time is likely to be later than this, please let us know.